How many times have you checked out a product or service after you saw it on social media? Many times, if you're like most people.

And to prove just that, stats tell us that almost 9 out of 10 shoppers say that social media helps them make a shopping decision.

That said, not having a social media eCommerce strategy in place means missing out on a lot!

In this blog post, we'll discuss the role of social media in eCommerce. We'll also tackle how to enhance your social media eCommerce followers.
Why Social Media eCommerce Design is Crucial
We've seen the social media eCommerce statistics above, but what makes this online platform an invaluable marketing resource? Here are a few key factors.
Personal connection. In general, people check their social media accounts to know what's up with their family and friends. That said, appearing on followers' feeds enables your brand to reach your audience on a personal level. So, focusing on how you market your brand on Facebook, Instagram, and Snapchat increases the chances of brand recognition and recall.
Engagement. Just look at famous brands' social media posts, and you'll usually see a ton of comments, likes, and reactions. This only goes to show how social media makes it easier for users to engage; all it takes are a few taps to like or share to their wall or inner circle.
Low-cost. Some marketers might argue that placing ads on social media isn't exactly cheap, and I'm not claiming so. But once you have a good amount of solid followers, you won't have to pay a lot to reach out and touch base.
7 Social Media ECommerce Ideas
If you need to step up your marketing game, here are seven social media eCommerce ideas you can take inspiration from.
1. Provide Valuable Info
If you're a newbie to moisturizer products, you might not know the difference between body cream, body lotion, and hand cream. But fret not, because Bath & Body Works got your back!

This visual graphic post explains the use and formulation of those moisturizers in a simple and easy-to-understand card. It's a genius marketing move for a brand that offers all three! It means whichever one you may want or need, you can get it from them.
2. Paint a Picture of the End Result
One tried and tested social media eCommerce tactics is to paint a picture of how the product can make your customers' lives better. For example, this post for Papa Murphy's Pizza implies that ordering a box means having to share and have a great time for people you love.

This strategy can be applied to just about any product or service. For instance, if you're selling bakeware on your online store, you can paint a picture of the yummy treats customers can come up with using your product. In the same way, if you're marketing a delivery service app, you can visualize how convenient it is for clients.
3. Spark a Debate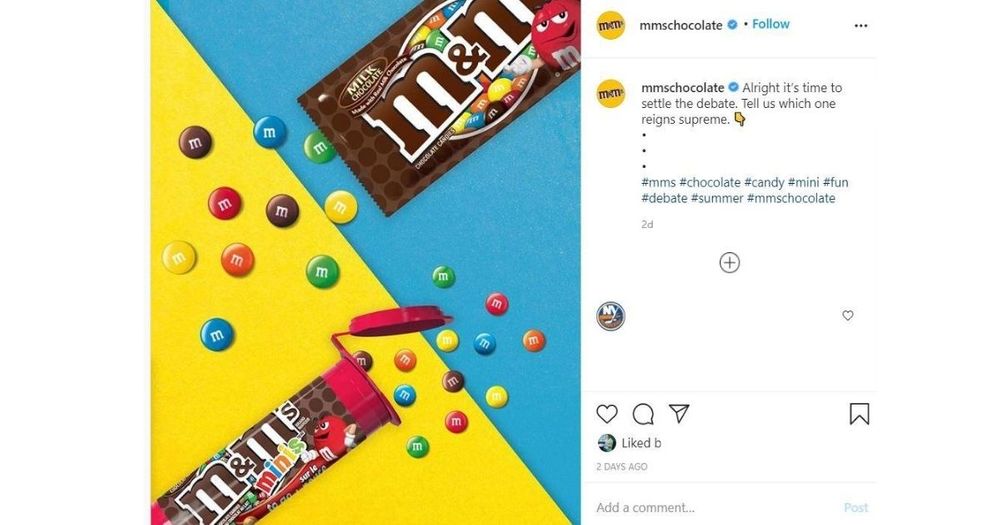 Engagement is one thing that makes social media a great tool for marketing. Tap on this function and use your channels to spark a debate. And it doesn't necessarily need to be a cerebral discourse.

For instance, this Instagram post from M&Ms simply asks followers which one is better – M&Ms or M&Ms Minis? Just last year, many pizza chains also jumped on a very crucial debate within the foodie community – is pineapple on a pizza acceptable? You'd be surprised at how passionate the arguments were!
4. Encourage Trust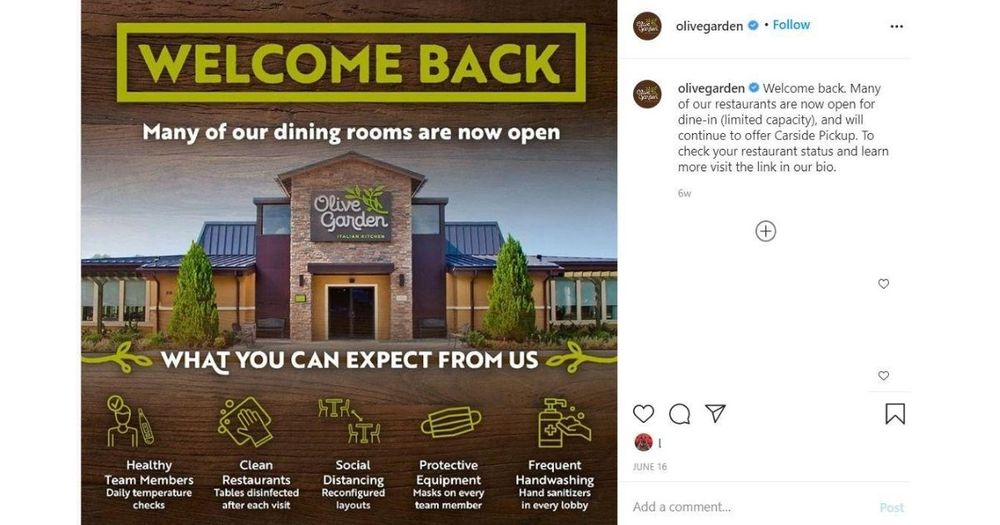 This post from Olive Garden aims at telling diners that it's perfectly safe to eat in their restaurants after having to close down due to coronavirus disease pandemic.

In general, eCommerce stores may need to reaffirm their reputation as reliable ventures to encourage their customers' trust. If you're not quite sure how to go about it, review the most common questions or hesitations from your customer base, and create a visual post addressing those concerns.
5. Show Them How to Use Your Products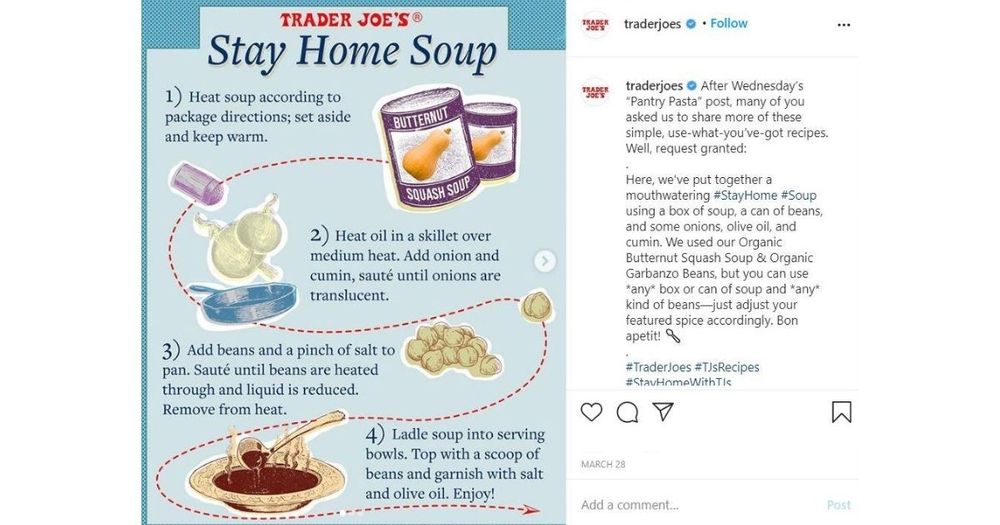 This tactic especially works well in a social media eCommerce platform that's big on visuals, such as Facebook, Instagram, or Pinterest. Enhance your audience's interest in your product by telling them what amazing things they can do with it.
Take this post from Trader Joe's, for example. The post features an old-school recipe card teaching users how to make "Stay Home Soup." And when you swipe the post, the next image is a photo of the ingredients needed to make the recipe, all of which are available in the grocery store chain.
6. Use User-Generated Posts
Using user-generated posts is social media e-Commerce trends that will never go out of style. It's a great way to let followers know about others' feedback. As a result, they get a sense of a shared experience as a community.

For example, this Dr. Pepper Instagram post shares several tweets calling for the return of Dr. Pepper shake in Whataburger. It reaffirms the reputation of the brand as something that people are clamoring for.
7. Suggest Upgrades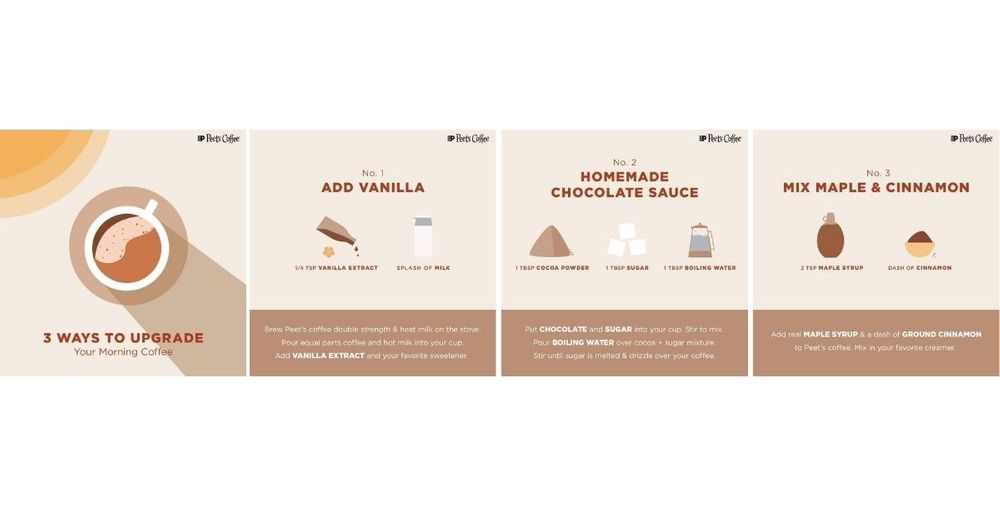 Also included in the most effective social media marketing strategies for eCommerce is suggesting upgrades. This is somewhat akin to recipe posts that recommend users to buy a bunch of ingredients to make a dish. The difference is, you're suggesting them to top up their purchase, and thus spend more on your shop.

For instance, Peet's Coffee has these social media cards suggesting how to upgrade morning coffee. This is perfectly applicable to online shops that offer add-ons and extras on top of their main products.
Key Takeaways
The impact of social media on eCommerce is undeniable. You might produce the most reliable products, offer the highest-quality customer service, and serve up the most engaging email campaigns.

If you don't have a strong social media strategy in place, however, you're not making the most out of what could be the best and lowest-cost marketing tool there is.

Whenever clients need help with social media marketing graphic design, they turn to Lead Pixels. With unlimited graphic design offered at a fixed monthly cost, it's surely a great investment.

Learned something new? Share this post on social media!