Facebook is a top advertisement venue for ventures, both online and offline.

According to the social media network's data, 1.6 billion people worldwide are connected to a small business on Facebook. This just goes to show how crucial this platform is in growing a brand.

If you have no idea how to start using this social media network to market your brand, reviewing the top Facebook ads can help.

Here are a few tips on creating ads for the platform, from a professional designer's perspective.
1. Understand How it Works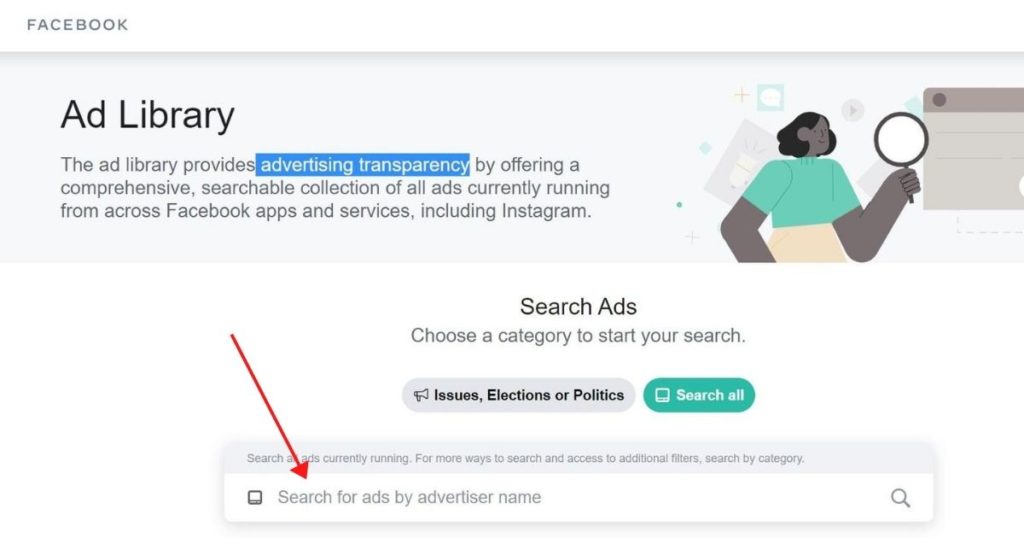 Managing ads is basically a social media manager or digital marketer's task. However, knowing how it works can enable the ad designer to craft designs optimized for the platform.

Think of each ad as a building block for the campaign. If you don't know the blueprint or how the process goes, there's a slim chance you'll be able to put the right block where it belongs.

Many social media ad newbies turn to courses left and right in hopes of creating the best Facebook video ads. However, one obvious resource is usually overseen – Facebook itself. Take the time to browse Facebook for Business to know the ins and outs of creating successful ads.

TIP: Want to see Facebook ad examples 2020 directly from your competitors? Check out Facebook ads library. As part of the platform's transparency policy, they allow access for ads currently running on Facebook apps and services, including Instagram. It's a gold mine for designers and ad managers!
2. Know the Format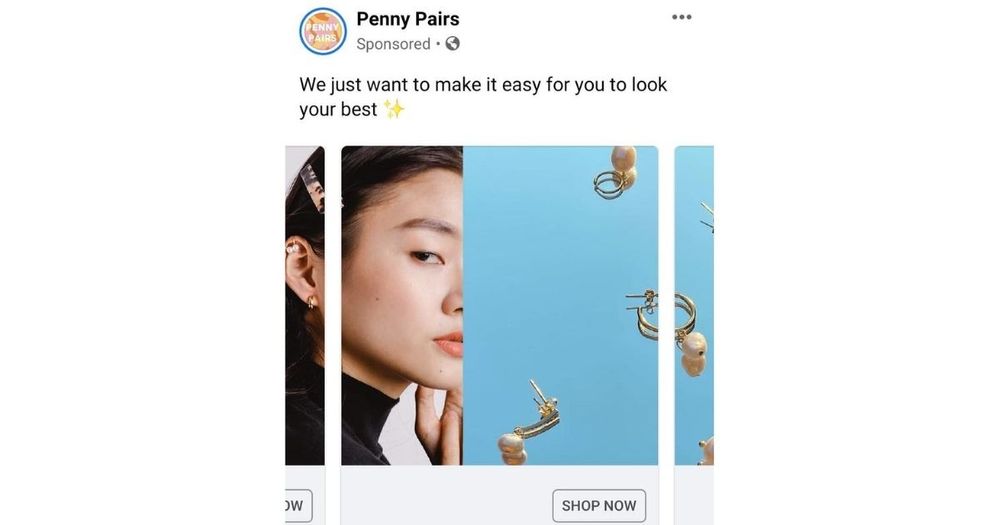 To develop the best Facebook campaign ideas and ad designs, you need to be familiar with the available formats first.

Here are the types of FB ad formats you need to know before creating an ad:
Image
Video
Carousel
Instant Experience
Collection
At the most basic, you'll need to know the specifications for an image ad:
Facebook supports a wide range of file types for image ads but Facebook for Business recommends jpg or png
It should have an image ratio of 1.91:1 to 4:5
Facebook for Business also suggests you upload the image in the highest resolution available.
Knowing the format well also allows you to come up with creative ad ideas. For instance, this carousel ad uses image cards cut in half, which you can only think of if you're familiar with how the format works.
3. Be Familiar with the Policies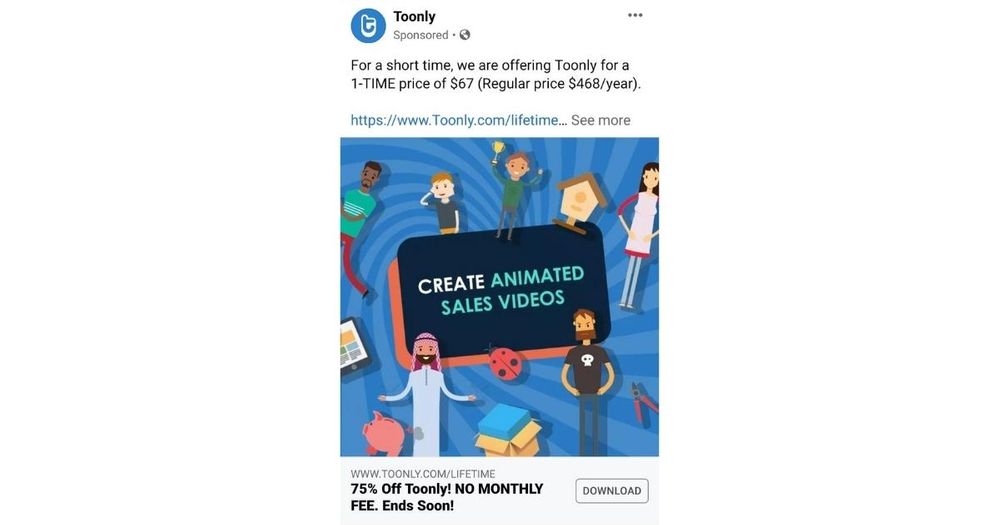 One policy an FB ad designer should be familiar with is the amount of text you can use within an image. According to Facebook, images with less than 20 percent text generally perform better.

So, if your image has more text than the recommended amount, it might not be approved. You might think that 20 percent is a bit too low, but if you look at this ad, you'll see that it can be just the right size.
4. Design for Mobile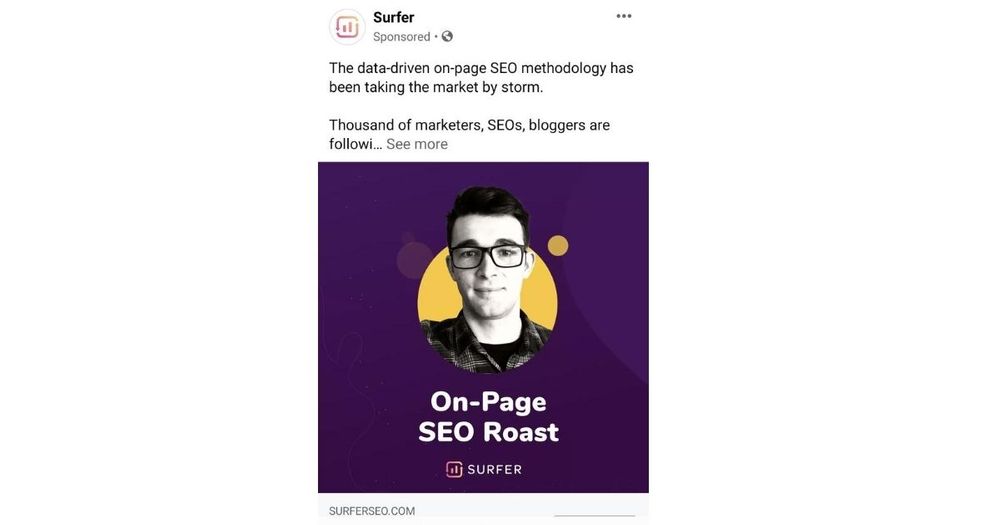 If you're browsing your FB feed to find the best Facebook ads 2020, there's a big chance you're using your mobile device to do so.

That said, it's best to optimize your ad for mobile, just like this ad for Surfer. It's simple and direct to the point, perfect for people on the go.

Here are a few specs to know when you're designing for mobile:
Single image ad, minimum aspect ratio: 400 x 500
Single image ad with a link, minimum aspect ratio: 100 x 100
5. Test Images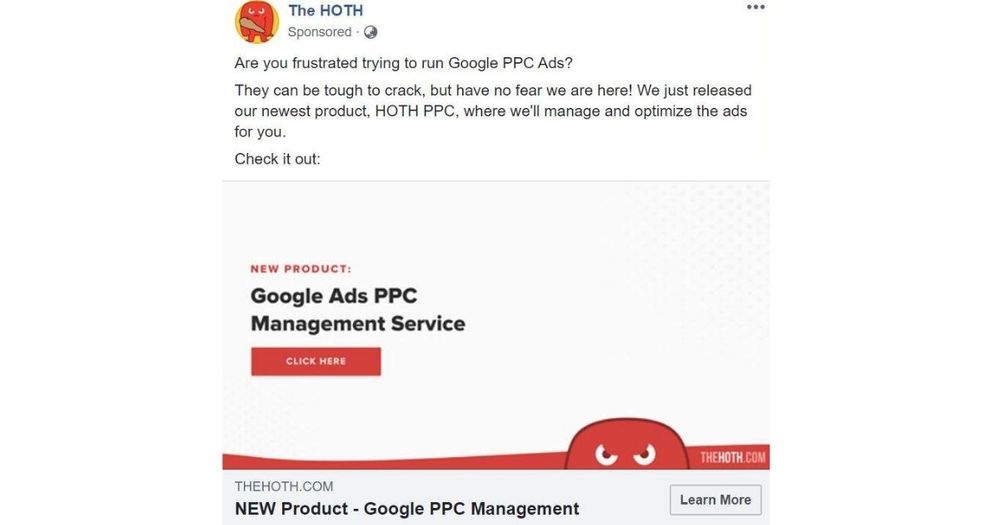 It's an ad manager's job to test visuals and copy and see how it works. However, it's still the designer's responsibility to review analytics to know how to best design the next ad.

That said, it's vital to look at the visuals of your top Facebook ads and note the following factors:
Image. What images resonate well with your audience? Did close-up images of your product gain more clicks or perhaps a photo of the product being used or worn by a model?
Color palette. Colors can very much affect your audience's conscious and subconscious feelings towards your ad. However, it doesn't mean that you'll have to use the same palette repeatedly. Instead, maybe try to achieve the same level of contrast or combo style for your next creatives.
Text. Most marketers don't bother putting text on the image and just use the caption for text. However, you might also want to revisit if images with texts make the ad easier to digest for your audience, just like the HOTH example. Just be sure that you follow the platform's guidelines as mentioned above.
6. Let Your Objectives Guide Your Design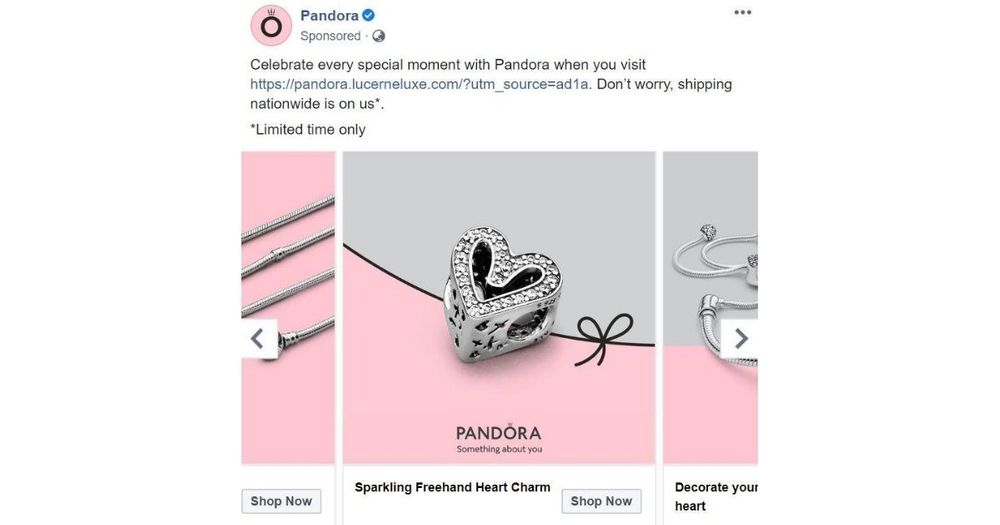 Not all FB ads are created equal. You create a campaign depending on the following objectives:
Awareness (Brand Awareness and Reach)
Consideration (Traffic, Engagement, App Installs, Video Views, Lead Generation, and Messages)
Conversions (Conversion, Catalog Sales, Store Traffic)
If you look at the top Facebook ads, you'll see that the visuals are somewhat designed with the goal in mind.

For instance, this ad for Pandora seems to be geared for conversion, given the "Shop Now" CTA button.

To supplement the copy and format, the graphic design features a color palette and layout that draws the eyes to the product itself. The images on the carousel ad provide different angles and zoom levels, perfect for a customer who wants to examine the piece before purchase.
The Lowdown
The top Facebook ads may make the process seem easy. However, anyone who has tried (and probably failed at first) to thread through the waters knows how tricky it is to run a campaign that rakes in profits.

In short, managing your ads is already a lot of work in itself. Small business owners might not want to delegate to another person because it involves money-related decision-making.
Luckily, graphic design services like Lead Pixels can do the heavy-lifting for you so that you can focus more on managing ad campaigns. Offering unlimited designs at a flat monthly rate, we can create all the designs you need without costing an arm and a leg.