Merch by Amazon is one of the ways many entrepreneurs operate a lean business with minimal overhead cost and without the risk of having stale inventory.

However, using the platform doesn't necessarily guarantee high sales and brand growth. In fact, it can take a while before you develop a flow and strategy to optimize your revenue.

For some sellers, a subscription service like Merch Informer is a great way to grow their Amazon business without losing their marbles. In this article, we'll discuss its main features and benefits. We'll also tackle the basics of how to use it for your business. So pull up a chair and get ready to learn.
What is Merch Informer?
Merch Informer describes itself as an all-in-one tool for Merch on Amazon sellers. They offer a wide variety of capabilities that stretch from niche research to trademark protection.

Here are the features of the app that make seller's lives a lot easier:
Product Research
Anyone in eCommerce knows just how challenging it is to find the perfect product that will work in the chosen niche. The platform provides assistance in this department by allowing access to millions of designs across marketplaces. In addition, the app allows the user to analyze product history, rank, and price changes.
Automation
This feature is especially useful for solopreneurs and small-team ventures. The app allows for streamlining the upload process not just in Amazon but also in other sales channels, such as eBay, Shopify, Etsy, Teespring, and others.
Keyword Research
This process is essential to show up in searchers' results. The platform allows users to access Amazon search data to find the best keywords to use in their product pages.
Built-in Designer
The app has a drag-and-drop feature that allows the user to create templates, patterns, and designs for their merch.
Trademark Protection
Even sellers with the best intentions may find themselves in a bind when they unknowingly commit trademark infringement. The app provides a TM checker to ensure that your design won't earn you a cease and desist letter.
Private Training
If you're still learning the ropes of merch selling, their private training can guide you to optimize your business.
How to Use Merch Informer
Here are the steps in using the app for your business:
1. Register for Free
Go to their website and click the "Register for Free" button. It will take you to a form that asks for your name, email, and password. The site will ask for your credit card details on the next page. If you're still on the fence about using their service, the Merch Informer free 3-day trial ensures that you won't be charged right away.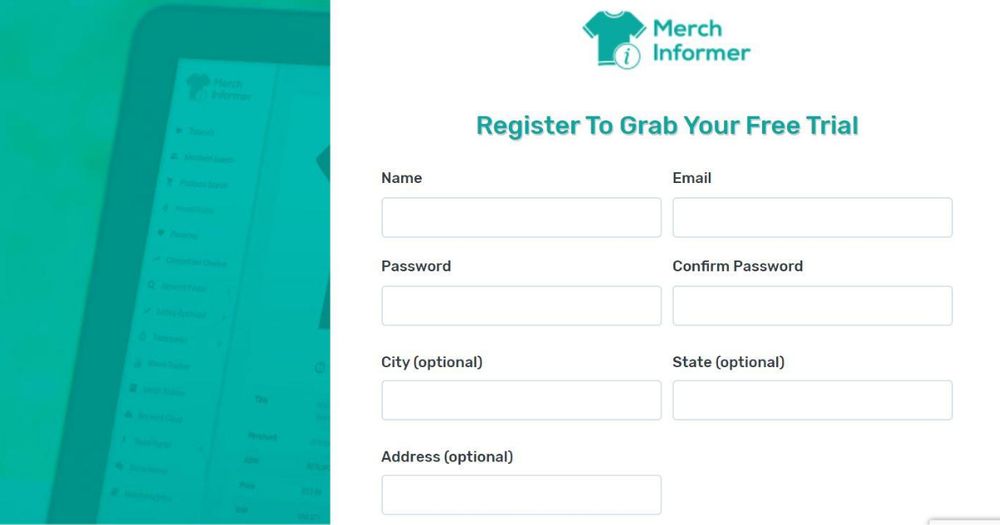 2. Check out the tutorials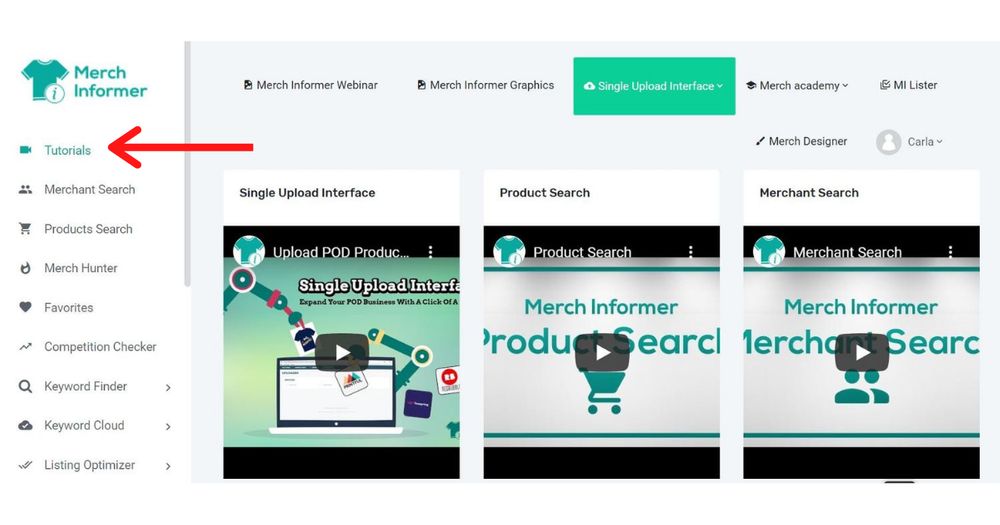 Once you complete your Merch Informer login, you will have access to tutorial videos that will teach you how to use every feature offered by the platform.
3. Explore the App Features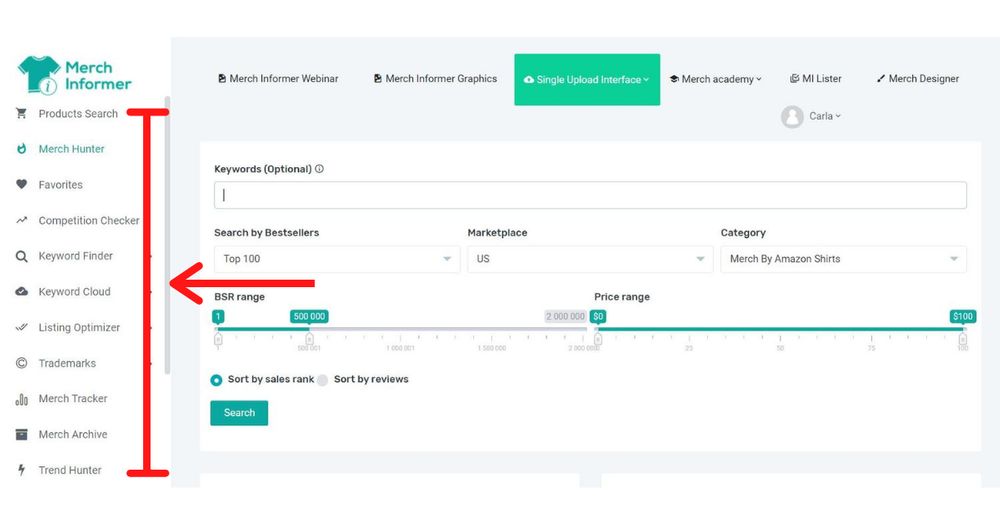 On the left side of the screen, you'll see a list of the app's features, including merchant research, product research, competition checker, keyword finder, and so many others. So yes, if you like spying on your competition, you'll love this app!

Here are some of my favorite features that I'm sure sellers would appreciate as well:
A. Trend Hunter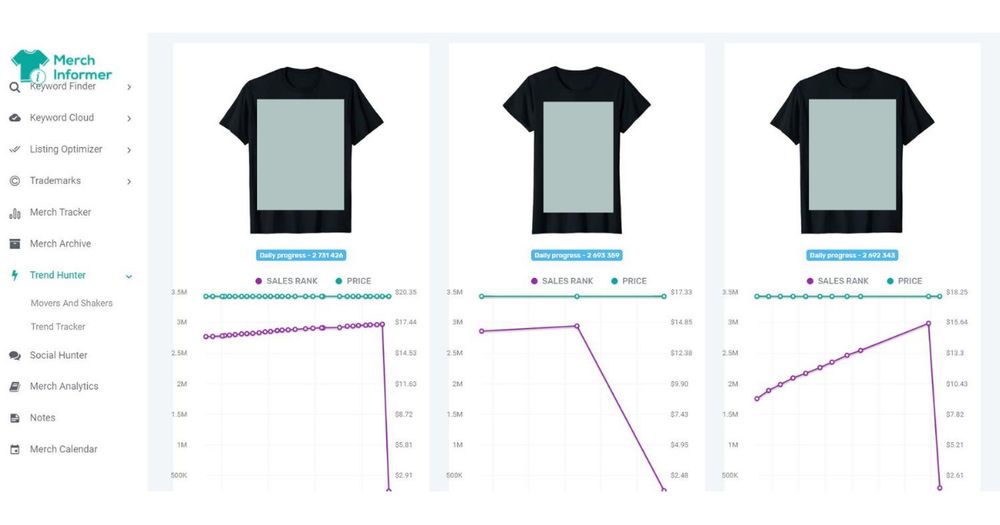 Under the Trend Hunter feature, there's a Movers and Shakers section. This shows you the trendsetters over the past few days, including details like the merchant, price, and reviews.
B. Merch Hunter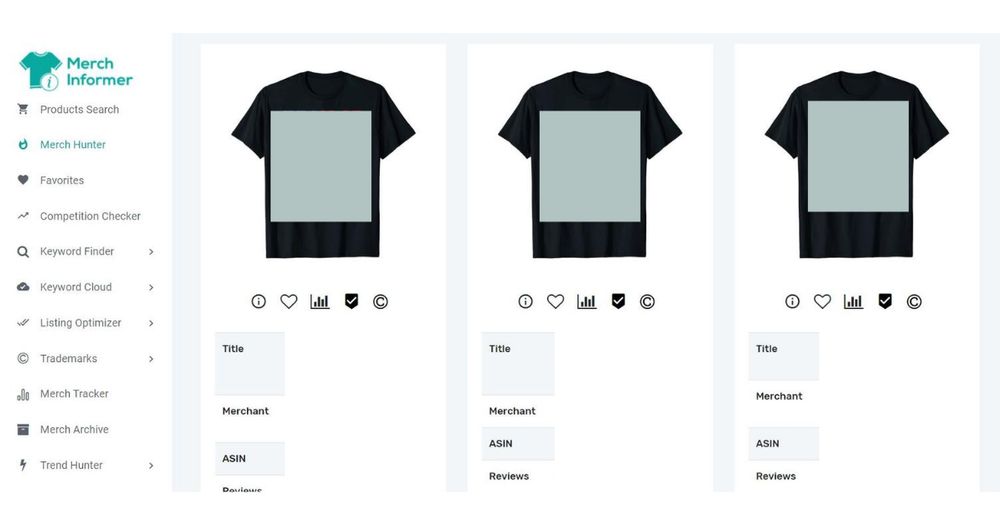 This feature shows you the top bestsellers and all the details you need to know about those products. This is a handy tool if you're looking for designs with bigger chances of hitting the mark with your audience.
C. Merch Designer
The app comes with a Merch Informer designer that allows the user to create designs. It's a pretty crafty tool to have on the same platform. However, if you're a non-designer like me and can't do better than this peace sign, it's best to leave the designing to the pros!
How to Cancel Merch Informer
Subscription to the app only costs $9.99 per month. But if you feel like it's not what you're looking for, or if you found a Merch Informer free alternative, it's easy to cancel your registration. On your dashboard, click on your account name and then on the subscription section.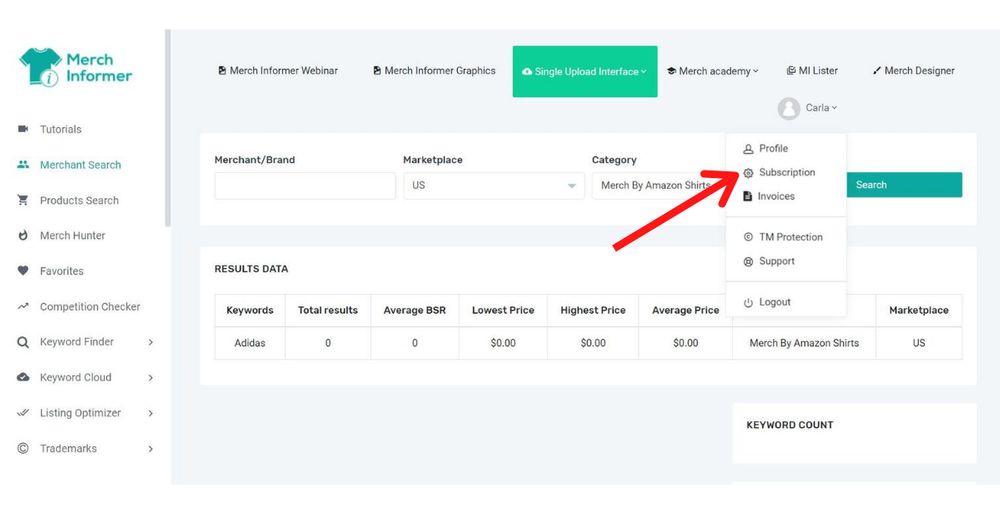 Then, click "Cancel Subscription." It will take you to a page asking you why you're canceling – it could be that you find the cost too much or have difficulty using the app. Click the button that matches your reasons and proceed to cancelation.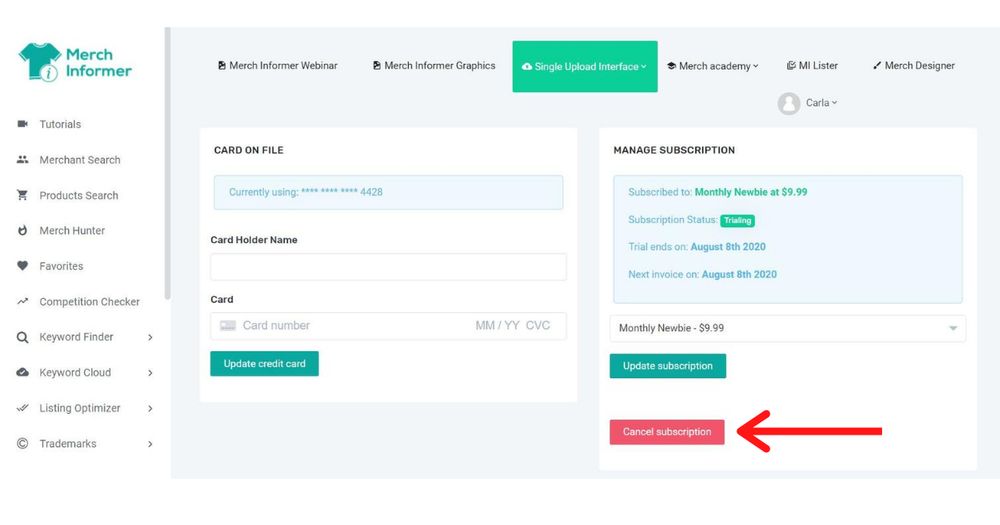 How the App Helps Increase Sales
Here are some of the ways the platform can help you grow your business fast:
The product research tool lets you know what your competitors are doing and allows you to craft better strategies.
You won't have to spend hours of research with the app's keyword tool.
The app allows you to be updated on the current market and trends.
You can save a lot of time with their streamlined upload process.
The Lowdown
Without a doubt, Merch Informer offers huge benefits to a Merch by Amazon seller. For one, it helps users have a wider outlook about what designs sell.

In addition to that, the platform also lets the users in on trends and competitors' offerings.

In short, if you're struggling with coming up with winning designs and targeting the right audience, the app is gold.

If, however, you're a non-designer who's hoping that the app will be a one-stop-shop for you, it's best not to put a lot of expectations on the designer feature. After all, though it offers sufficient editing capabilities, it's still ideal to have your designs created by a pro.

Luckily, great designs don't need to cost an arm and a leg. At Lead Pixels, we offer unlimited high-quality designs at a flat monthly cost. Sign up today and find out how we can help you grow your merch business.