Adobe found that more than 70% of companies invest in creating more graphic designs. It's more important than ever to present compelling graphics. It's to engage the target audience to connect with the organization and eventually take action.

Online graphic design services have popped up over the years to meet the rising demand of receiving good graphic designs. This will enable organizations to decide which design service will fulfill their design needs.

One of the challenges that you may face is to select a design service that won't give you a headache price-wise.

Not to worry. In this article, I list down six different online graphic design services that would fit different budgets.
Cheap Online Graphic Design Services
1. Canva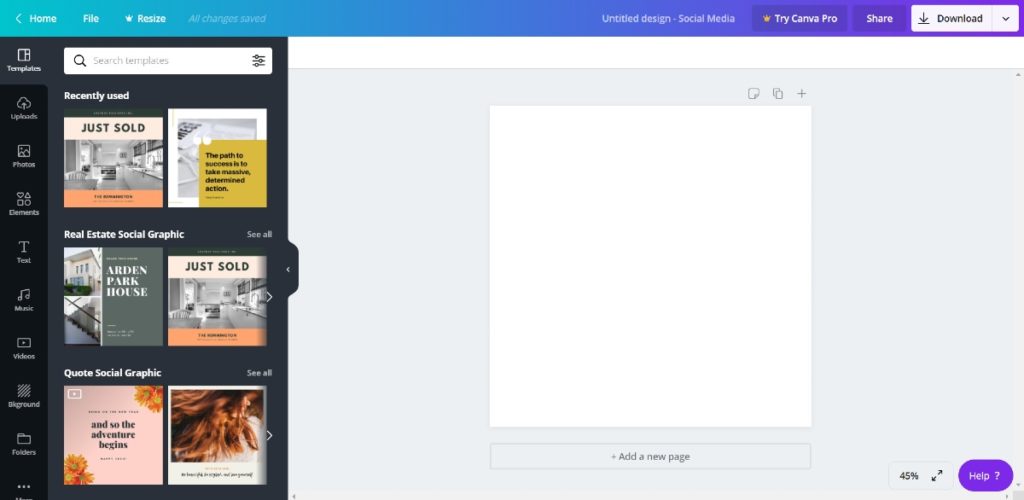 Canva has become one of the leading online graphic design services. They've become one of the widely used and popular graphic design services by individuals and businesses.

For one, it's a do-it-yourself graphic design service. So, you have full control over the design you want to execute.

Another thing people love about Canva is they have a Free plan. Even on that plan, users have access to 8000+ free templates and 100+ design types. Plus, you can use royalty-free photos. But businesses or entrepreneurs can upgrade to a Pro ($9.95/mo.) and Enterprise plan ($30.00).

The user interface for Canva is also easy to use. You can either choose a pre-made template and change elements to suit your brand. Or you can start from scratch. You can drag-and-drop elements like shapes, icons, and photos. Plus, even on a Free account, you can download the files as PDF, PNG, and JPG.

Even if Canva does have its advantages, it also poses some challenges for its users.

One of the primary disadvantages of using Canva is copyright. Since many businesses are using Canva, you might have the same design and style with another organization. This could spark trouble since you won't have full ownership of all designs.

Another drawback to using Canva is some users have problems with the application. Sometimes, they want to align elements properly by using a ruler. It's a common issue that many face when creating graphics on Canva. One more application problem they find is there's no flexibility in resizing the image.

If you're using the Free plan, you have limited templates. Most complain over the design and quality of the templates. This will lead you to subscribe to a higher tier to get better templates.
2. GetStencil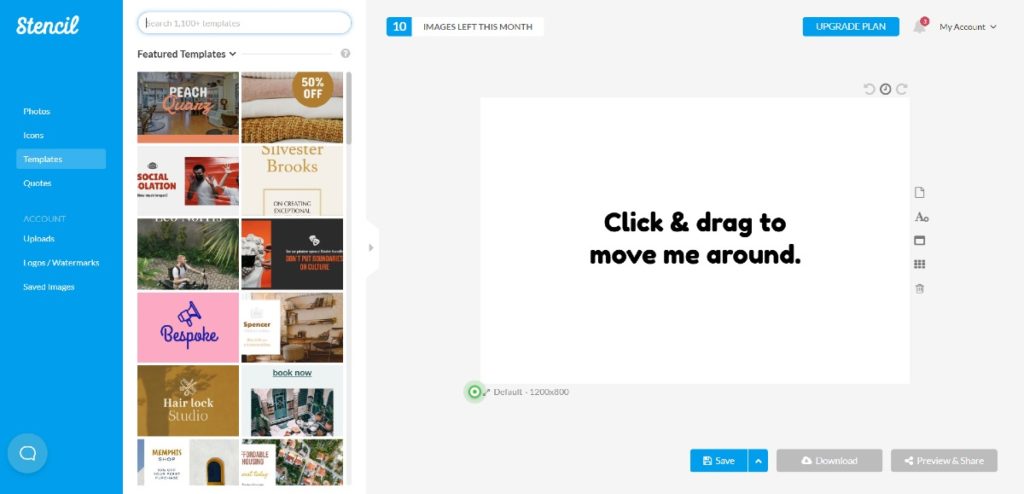 GetStencil is one of Canva's most formidable competitors. They both function as DIY graphic design services. However, many prefer Stencil due to its efficiency, pricing, and speed. Like Canva, it offers Free, Pro ($9/mo), and Unlimited ($12/mo) plans. Plus, you get a 7-day money-back guarantee.

Like Canva, many users experience application issues. Some mentioned they had difficulty resizing photos and grouping them. Some also reported some optimization issues regarding image sizes.

Another limitation of the Stencil app is the use of templates. You can use up to three templates only with the Free plan. Plus, you can download only ten images per month.
Mid-Range Online Graphic Design Services
3. Lead Pixels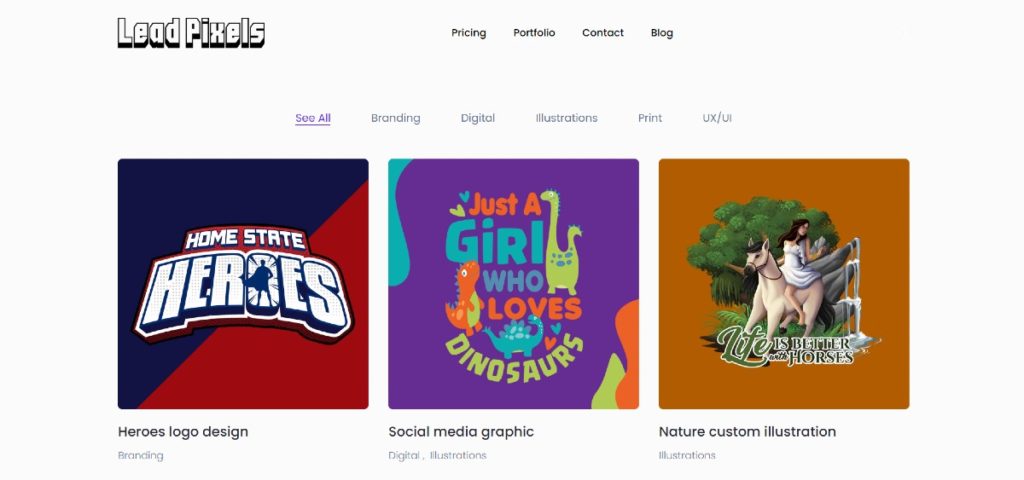 If you don't have the time to create your design or find a graphic designer, your best bet is using an unlimited graphic design service. Lead Pixels is one of the best examples under this category. It's one of the online graphic design services that will produce designs on a flat monthly rate.

You won't have to worry about paying per project or getting this x number of designs. Rest assured, you'll maximize your plan with Lead Pixels.

Plus, you won't have difficulty finding a graphic designer on short notice. A Lead Pixels designer is available anytime when you need a design.

All you need is to click on a Lead Pixels plan. From there, you can request your design needs. You can request marketing, branding, or advertising graphics. A designer will work on your request, and you'll receive the first draft within 24 to 48 hours. Plus, you get unlimited revisions too. So you get designs that you'll love at the end of each project.

You don't have to worry about paying too much with Lead Pixels also. It's one of the most affordable on-demand online graphic design services out there. No need to pay extra for any other design type. It's all integrated into the plans.

You can guarantee that designs from Lead Pixels will always exceed expectations. The top 2% of designers are part of the Lead Pixels team. So, they will ensure professional, top-notch, and compelling designs that you'll love and fit your needs.
4. The NetMen Corp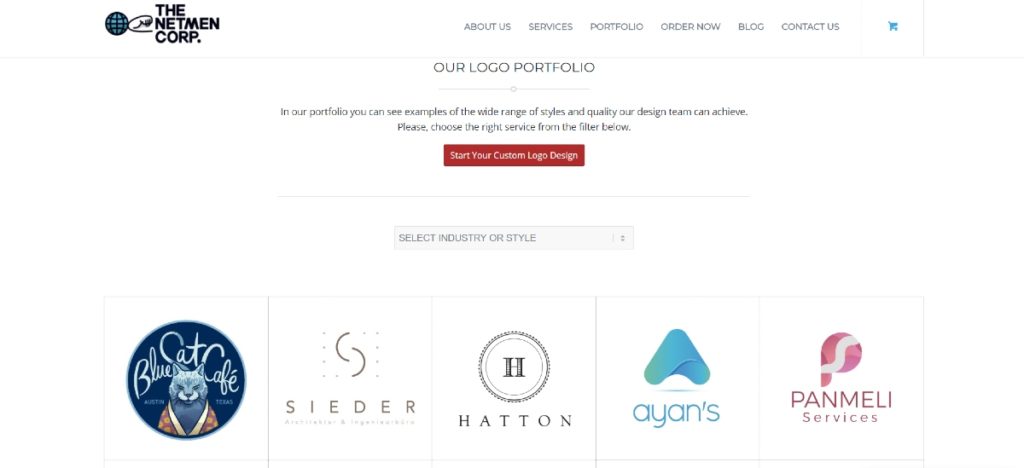 The NetMen Corp is an online graphic design company where you can buy designs. You only need to click "Order Now." From there, you can choose the type of design you want to buy. When you have decided on the design you need, you have to pay a downpayment.

Once you buy a design type, you'll fill in a product evaluation. This is where you input details about your business and requirements. It's how the designers can determine the design. After three business days, you'll receive the initial design. According to the company, you're entitled to unlimited concepts and revisions (within reason). Plus, they mentioned you'll receive deliverables within ten days.

Prices start at $99 for a logo redesign, web banner, business cards, and web headers.

This might become a challenge for those who might need their designs within 24 to 48 hours.

Like most companies, they pay a per-project basis. You do have the option of getting combo packages. Still, this might break the bank, considering that you might need other deliverables.

The company does provide high-quality designs for clients.
Expensive Online Graphic Design Services
5. 99Designs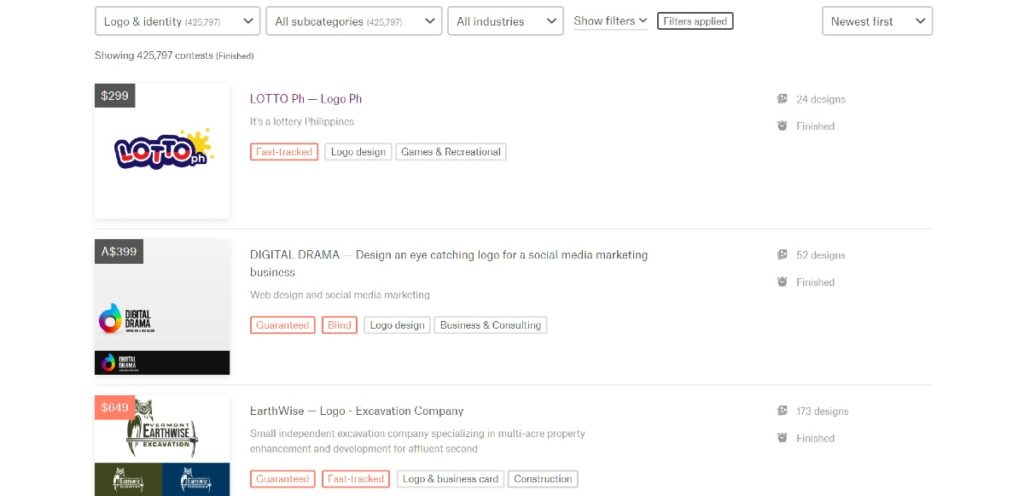 99Designs is a design contest and marketplace hybrid. You can find a freelancer on the site. You may filter your search depending on what type of design you need. You could also choose between different tiered designers. The higher the tier, the higher they may charge.

If you don't want to work with a freelancer, you could start a design contest.

A design contest is where you'll submit a design brief and pay according to your budget. For example, you might need a logo design. But you're uncertain as to how you want your logo presented. You can hold a design contest where different designers will submit designs based on your preferences. Once you choose a logo design, the designer will send over the materials. From there, you get full ownership of the design.

Many companies and startups use a design contest model to save on costs. In 99designs, contests start at $299. However, most might pay much more.

For example, you need a great logo design. You might have to spend $1,299. You'll receive over 60 logo designs for that. One of its many downsides is, the only person getting paid for the service is the winner. This has become controversial due to ethical reasons. But, it's still a widely used option to receive designs.

Design contests can be a hit or miss for those who've used it too. If you're paying the lowest price, you might not get high-quality designs. This could become frustrating, and you might have to find another graphic design service.
6. Toptal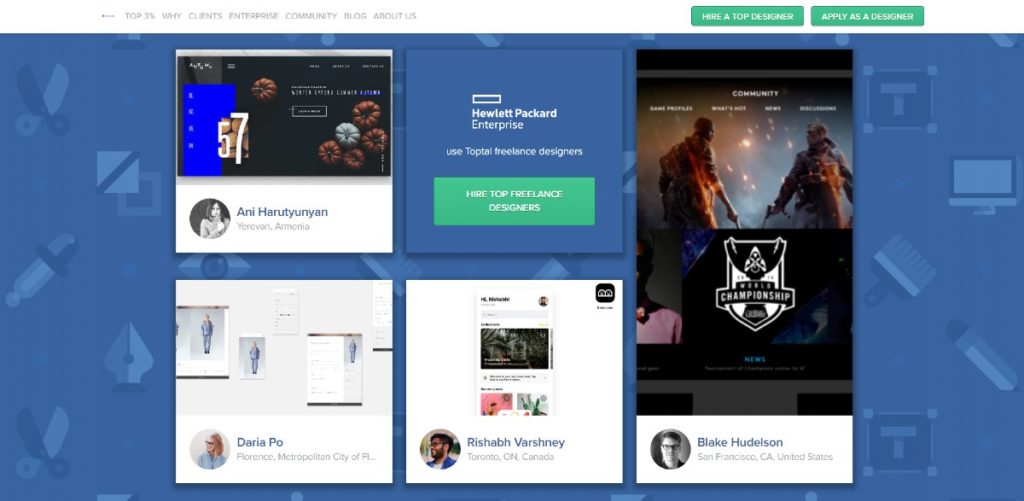 Toptal is a marketplace where you can find the best freelancers. Unlike Fiverr and Upwork, you'll be connected with a designer based on your needs and budget. If you're new to the site, you'll have to answer a quiz. This could become a drawback for those who need graphic designers urgently.

One thing to remember about Toptal is that the site leans toward long-term employment. This is so you can integrate your designer into your team. If you need a long-term freelance graphic designer on your team, then you could use Toptal. You may search for a part-time or hourly basis.

You can guarantee that you'll get a top freelance graphic designer because of their skills and expertise. Based on their portfolios, you'll notice the quality of their work. They produce high-quality designs fit for the client's needs. But if you want to save up on costs, you might want to find an alternative option of finding a freelancer. Perhaps you might want to try a different graphic design service.

Toptal estimates you might spend over $150/hr when you hire one of their freelance designers. Hourly fees do start between $60 to $70. This might be costly if you need something easy done like social media graphics or flyers. If you decide to hire a graphic designer full-time from Toptal, expect to pay an average of $2400 to $4800/wk.
Final Thoughts
Online graphic design services have thrived because of design demands. Thus, competition is fierce in the graphic design industry. You must establish a strong online presence to stand out from the rest. You want an online graphic design service that can fulfill that goal.

The question is, what type of online graphic design service should you use?

If you want bang for your buck, an unlimited graphic design service like Lead Pixels can become your partner. You won't have to worry about hourly or per project payment. Get started on a Lead Pixels plan today. See the difference in your online presence.