More impressive than your website, a landing page delivers what your other marketing channels can't. As business owners, you want to exhaust all marketing strategies to rake in sales. And wowing your audience with interactive landing page designs is key to a happy bank account.

But there is more to landing pages than just mere graphics and texts. In some cases, brands need to add interactivity to keep step with consumers' declining attention span. But let's dig deeper into why marketers are slowly diversifying their landing pages and making them more responsive.

Grab three takeaways from this article:

What is an interactive landing page
Benefits of interactive landing pages
Elements of an interactive landing page design
What is an Interactive Landing Page?
Simply put, a landing page differs from your website or any other web pages due to its primary purpose. While your website aims to deliver answers to inquiries and increase brand awareness, a landing page is geared to convert.

Typically, landing pages contain graphics, illustrations, videos, compelling copy, and forms to convert prospects. But interactive landing pages are different because they not only urge leads to perform an act. Interactive landing pages turn the spotlight on your leads by making them active participants.

Whether you integrate a fun game or short quiz on your landing page design, the user stays on your page because the activity piques their interests. And this is the primary reason why marketers prefer interactive landing pages over passive ones. Well, also because interactive landing page designs increase click-through rates by 200 percent!

The concept behind interactive landing pages is somewhat similar to Reveal Marketing. It is another marketing tactic that requires prospects to perform an act to reveal the message's content.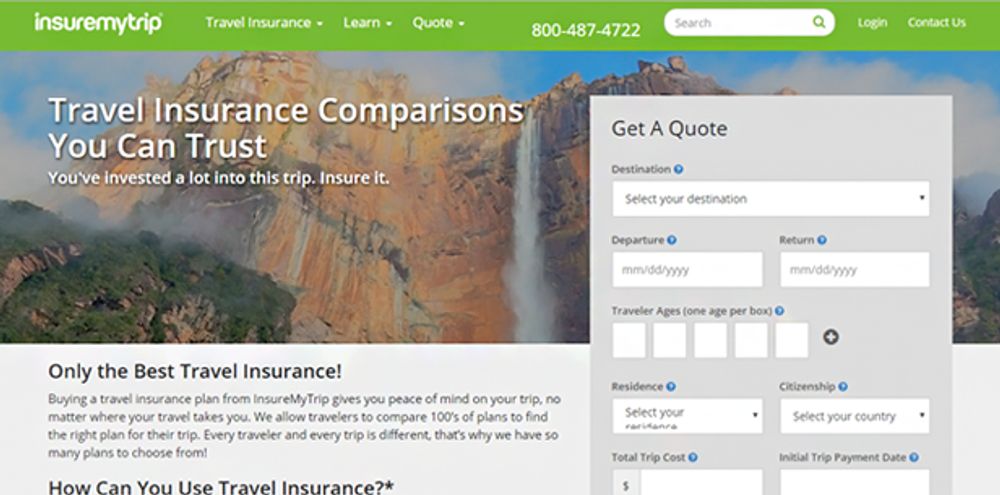 Here is an example of InsureMyTrip's landing page that lets prospects calculate their travel insurance. Not only does this give your leads a snippet of your service, but it's also another way to gather email addresses.

In the same vein, you want your prospects to be riveted to the landing page and get their end of the bargain. And because leads stay on the page for a long time, interactive landing page formats undeniably help your brand surge. Read on to learn the benefits of interactive landing pages.
Benefits of Interactive Landing Page Designs
Interactivity is a major web design element and for a good reason. Interactive content caters to the user's changing browsing behaviors. According to Demand Metric Report, interactive content increases lead conversion by 70 percent. If you're not whipping up interactive landing page designs, here are a couple of benefits if you do:
Increases Dwell Time
Users who engage with interactive landing pages stay on the page longer than usual. And this increases Dwell time. This element is crucial for optimizing your landing pages and being in the good graces of search engines.
Increases engagement
If you think of the most attention-grabbing interactive tactics, users will stay on the landing page and engage. According to INC, customer engagement is the new marketing. If you can get them to scrutinize your landing page, expect they'll be on your regular clientele list.
Furthers them down the funnel
The more your users enjoy and interact with your landing pages, the more they begin to consider your brand. This can have a significant impact on achieving your landing page goal. If you're leading them down from the top of the funnel to the bottom, an interactive landing page is one way to hasten the journey.
Augments conversions
One distinct advantage of using interactive landing pages is how it increases conversions. Landing pages are part of your advertising, and they are built for conversions. And creating unique landing pages that offer value will increase conversions.
Elements of an Interactive Landing Page Design
For a landing page design to succeed, you have to sprinkle the right ingredients. Make sure you do these tips to make for high-converting landing pages.
1. Element of Fun
The most vital part of an interactive landing page design is the element of fun. Users are naturally drawn to exciting and fun things because they're enjoyable. That said, ensure that you think of the most creative ways to poke fun at your audience. Here are a few ideas:

Add a fun game
Create a short quiz
Add a calculator
Integrate animation
Add responsive icons
Lacoste surely knows how to please their prospects by creating this fun landing page. Prospects would have to go through a series of questions to come up with the best gift for their loved ones.
2. Marketing Psychology
Ads use marketing psychology to urge users to act. To boost engagement, you have to make sure to incorporate the right types of marketing psychology. Here are a couple of psychology types:

Curiosity. Always add a sense of mystery to your interactive landing pages. People are naturally curious and want to do whatever it takes to get to the bottom of the message, provided that it interests them.
Endowment Effect. This refers to how users place value on objects they don't own. And if you give them something they can't resist, they'll appreciate the gesture and experience.
Operant Conditioning. This method of learning banks on rewards for behavior. Tell your prospects to go through a quiz on your landing page in exchange for something excellent in the end.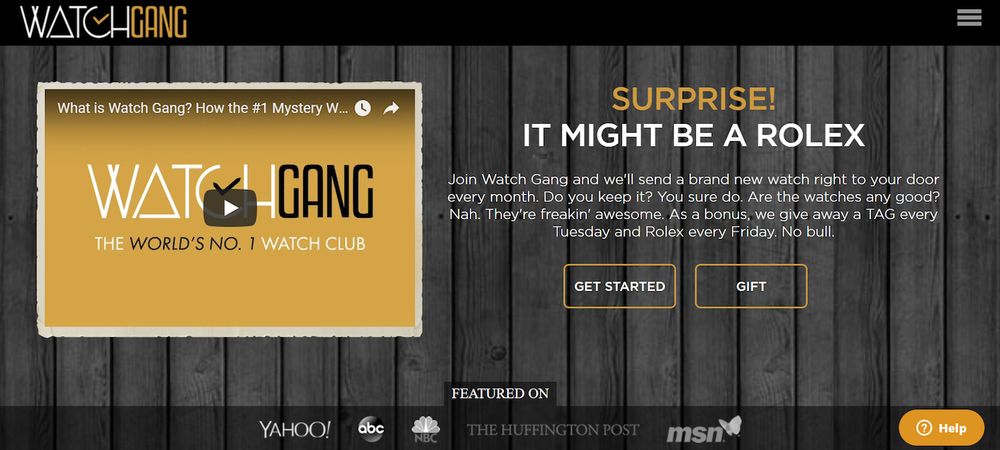 Here's WatchGang's landing page, which combines both elements of surprise and freebies. It's enough to make users want to click the video or get started.
3. Illustrations and Graphic Designs
Another way you can grab user attention is to showcase hero illustrations and graphic designs. You have to ensure that your landing pages make your audience stop and look. When you manage to do that, place an interactive element above the fold, so it's the next thing your audience will see.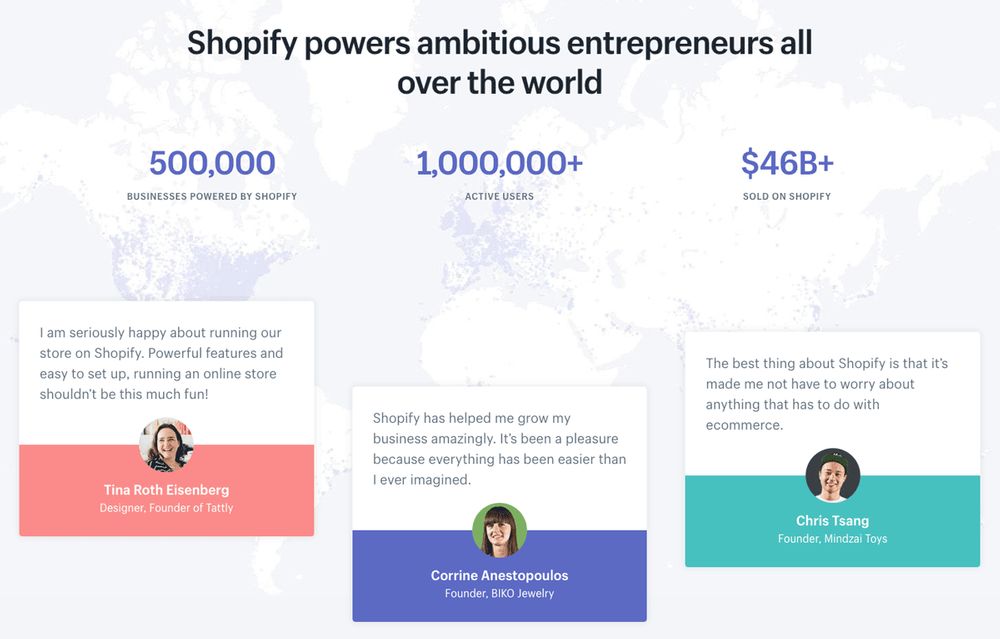 For instance, using social proof is one way to grab your audience's attention. Check out this Shopify landing page design.
4. No Distractions
Marketers forget how simplicity is a selling point for landing pages. As mentioned, landing pages are built for conversions. But unlike websites, they must bear no distractions that can detract users from the page. It must be simple, with only one goal in mind.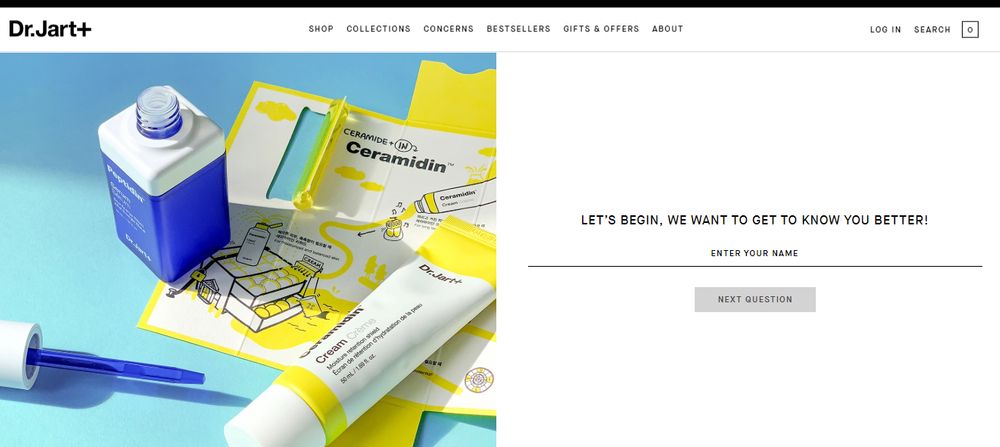 Check out this simple and straightforward Dr.Jart+ interactive landing page design example.