In 2017, over 260 billion emails were sent and received. Statista does predict the numbers will rise in the next few years. That's why you need to break the noise and increase your open rates. You could do that with a solid email marketing campaign. Email marketing remains one of the most successful marketing strategies. Emma finds that 59% of marketers find they have a higher ROI through email marketing.
You should have a great email design that can guarantee not only open rates but conversion rates too. To do that, you can use email marketing software like Drip, ConvertKit, and MailChimp.
In this article, I introduce you to MailChimp and how to make a design on the platform. Plus, know what the elements are of great email design and why that's important.
What is MailChimp?

MailChimp is an integrated marketing platform for businesses. You won't have to sign-up for different platforms so you can accomplish your marketing goals.
They offer the following services:
CRM
Ad campaigns
Landing page creator
Social media visuals
Website builder
Before it expanded its marketing capabilities, MailChimp was an email marketing software. Since then, the email marketing software has boomed and branched out to other marketing strategies.
In 2019, they reported a daily 11,000 new users signing up on the platform. They remain one of the most recommended marketing platforms for small business or eCommerce websites.
What are the Elements of a Great Email Design?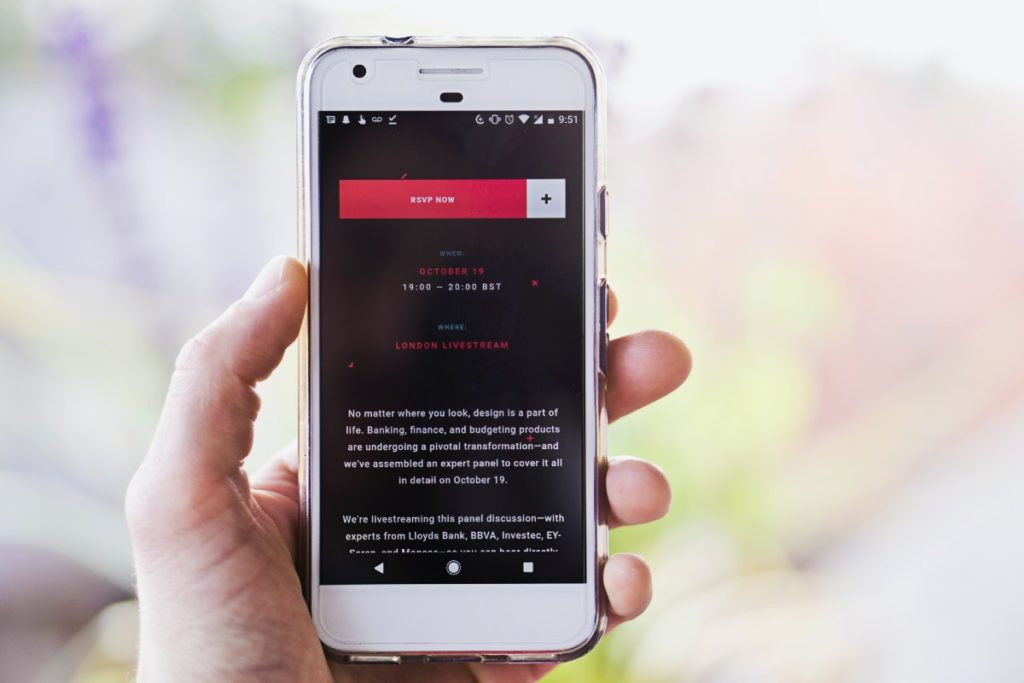 An excellent copy does increase open rates. After all, it's the subject line that gets your subscribers to click. Also, almost 50% of them click on your email because of it.
However, it's a great email design that could increase more website traffic and generate more sales. Hubspot found that more than 60% of users expect to receive emails with images, and that's what they want to receive. Also, Campaign Monitor recommends the following images so you could increase your click-through rates (CTR):
Icons
Photography (Stock and personal)
Custom images
Graphs and charts
For eCommerce websites, you should feature products on your emails. So, this way, your subscribers know what's on sale, new, or hot.
When you're also making an email, you need to understand some elements that make it a worthwhile email to read.
So, here are five elements that will give you a great email design.
Layout
If you notice when you open the MailChimp platform, you get to choose different layout types. There's no specific type of email for a layout. However, the layout provides information hierarchy. This means you'll have to structure your content correctly.
This will make it easier for your leads, customers, or users to skim, read, or view the content. The one column is the standard email design layout because this will allow the subscriber to view the content from top to bottom.
Hierarchy
Your email newsletter would have limited space. You don't want to stuff in a lot of information with your email ending up in the trash. It's best to keep your content minimal, but keep it engaging.
Plus, don't forget to add your headers, pre-headers, and footers. This way, your email is easy to follow.
Tip: Telepathy suggests you have your Call-to-Action (CTA) button appear at the top. This could make them click on it and get redirected to your site.
You'll also have to consider the visual hierarchy in your email design. It's an essential part of the design, so elements are organized. Notice in some emails there are headers and bullet points? That's all part of the visual hierarchy.
You want to have a variety of how the different sections should appear. For example, your headers should have a bigger font than your copy. So, when your subscribers scroll down, they can just go to that particular section.
You have to consider the flow of your email newsletter, too, as part of your visual hierarchy. You have two patterns to choose from F or Z. It's the standard practice that most designers follow on website design. Plus, following this would make it easier for your subscribers to know how they should process the information.
Simplicity
A clean or minimalist design is no longer just a trend. It has become a best practice. When you make your emails, you need to apply simplicity to it too. An example of simplicity in practice is white space. 
You need to pair simplicity with the visual hierarchy to make a great email design that will have your subscribers clicking on it and sharing it.
Optimization
More people have used mobile to do online shopping, visit social media, and even open emails. A huge part of email design is optimization. Apparently, 81% of users open their emails on mobile. That's why you want to send a mobile-friendly email.
Also, if you can, optimize this on different devices. Since screens are different for mobile, you could go for a standard design that won't distort the image.
You wouldn't want to open an email where you have to zoom in on a CTA button or a photo. So, you should always test your design on mobile before sending your email newsletter.
The Next Web suggests creating an email for mobile first then adapting it onto the desktop view.
Brand Identity
An email campaign can be part of your marketing strategy. So, it's only right you include brand identity design for your email newsletters. This consists of the following elements:
Logo
Font
Colors
Photography
Remember, you want to remain consistent in any communication channel or platform. An email newsletter is no exception.
How to Create a Great Email Design on MailChimp?
MailChimp offers different plans for any users. Regardless of which subscription you've chosen, you'll still create your email campaign even on a free plan! Of course, the free plan is limited. It's for those who have 2,000 contacts or less and have one audience type. Still, it's a point for MailChimp to provide a starter plan that can compete with other marketing software applications.
Step 1: Go to your MailChimp dashboard and click create Email.
Step 2: Name your email campaign and click Begin. (In our example, let's name the campaign as Test)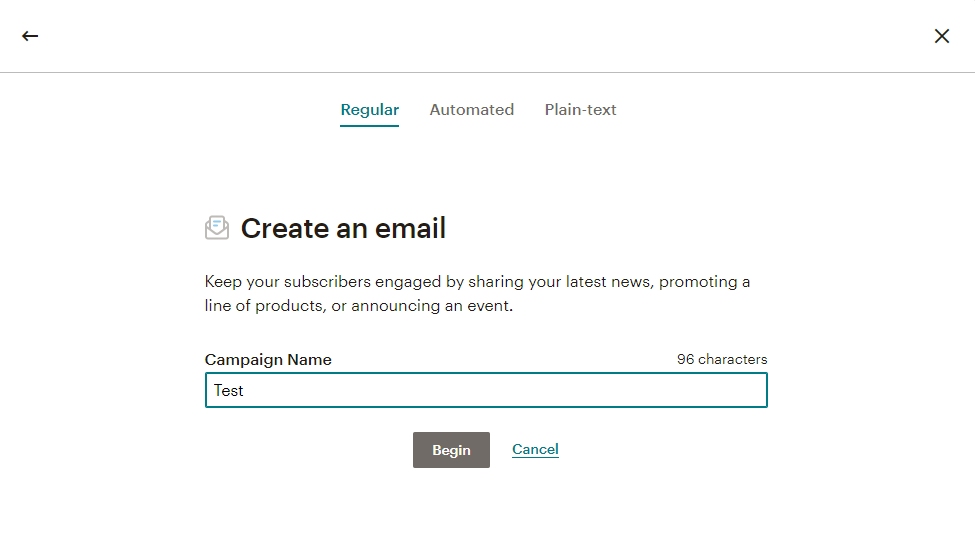 Step: 3: Skip the recipients, subject line, and go to content so you can Design an Email.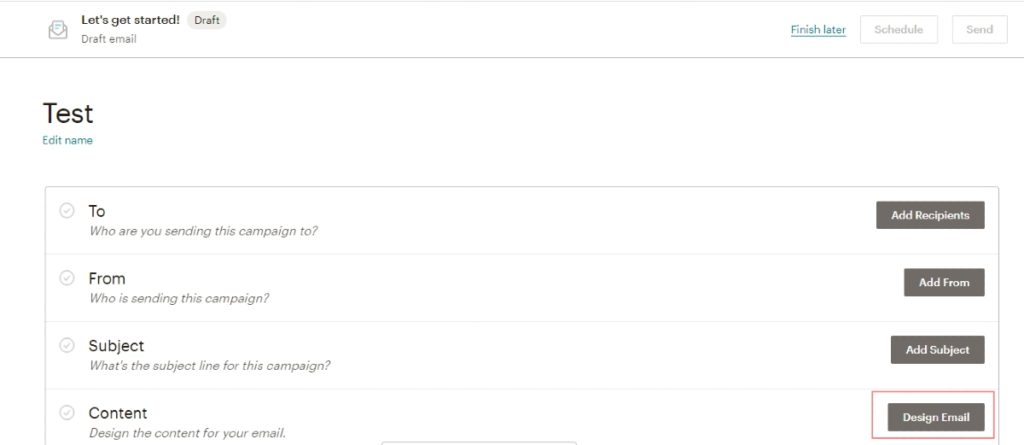 Step 4: Choose either layouts or themes.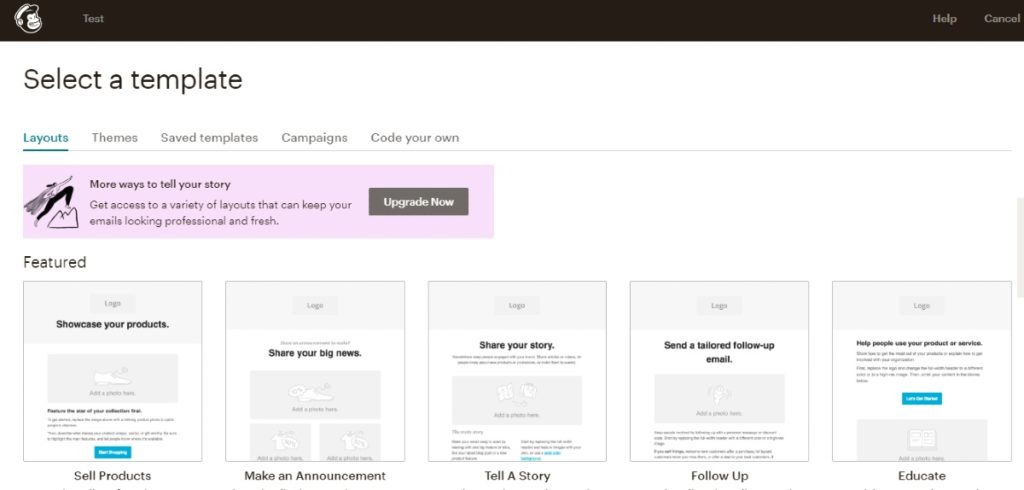 If you choose themes: if you have no prior experience with using an email builder, you can try a theme. They've already created a template. All you have to do is replace photos and the placeholder copies with your own. This way, you can send your email campaigns to your subscribers in a snap.
If you choose layouts: It's drag and drop so you can add elements any time. Plus, if you want to take out any block, click the X button on that section and replace it with one, you might add it to your newsletter.
Plus, if you start from scratch, you can save this template and use it for another campaign. That way, it saves you time from creating another one.
Make sure to also change the placeholder text here before sending out your email newsletters. You don't want the brackets with the code appearing in your email.
Step 5: Compose your email newsletter.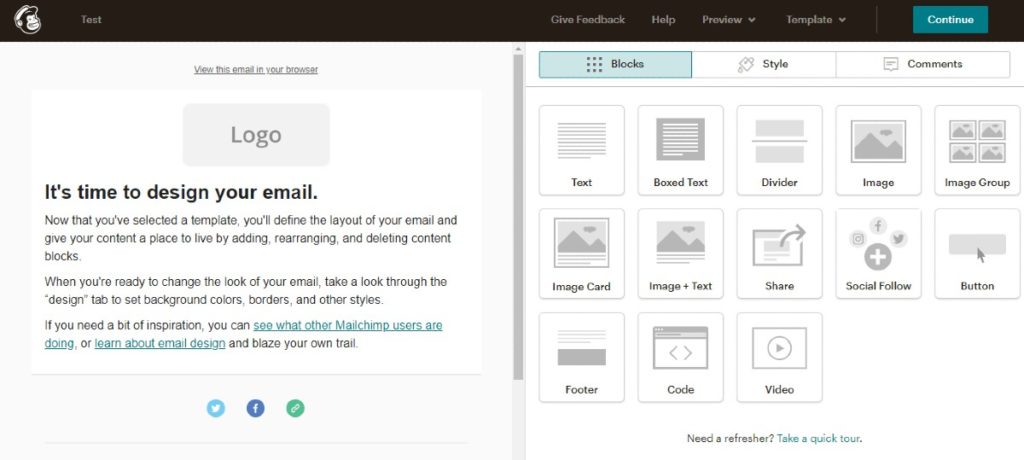 Step 6: Use the content tips below to make your email newsletter pop.
Step 7: Check and test your email before sending it.
Step 8: Add your finishing touches, and you're ready to share your campaign to your subscribers!
Graphics to Add in an Email Newsletter on MailChimp
Some businesses or blogs would use a text-only email newsletter. Despite the lack of graphics, this type of email generates a 42% CTR.
However, if you decide to add graphics, create a great email design through an HTML email newsletter.
If you want to make your email newsletter pop and showcase your products or services, you can add these types of graphics:
Logos
Illustrations
Infographics
Icons
Invitations
Patterns
In terms of sizing your photos on the email, make sure to keep it at 600 pixels wide with a 72 dpi.
Tips to Write an Email Subject Line and Copy That Converts
Email Subject Lines
Here are five tips to follow in writing your email subject line:
Keep it short and simple
Personalize the subject line
Provide a sense of urgency, curiosity, and importance
Use punctuation sparingly
Include action words
Email Copy
Even if you have a compelling subject line, you don't want to fall flat on the email copy. It's the copy that will persuade the subscriber to go to your website and purchase a service or product.
Make it about your subscriber (Always write You)
Write relevant and valuable content
Keep it brief
Use data
Prompt the "Fear of Missing Out" in your copy
That's it, you've created an email using MailChimp!
If you need to have a custom-designed email that incorporates your branding and style, Lead Pixels can do that for your business. The designers at Lead Pixels will provide you with a compelling design that would meet your expectations and purpose. The on-demand design service can also provide you with visuals such as social media graphics, marketing collaterals, illustrations, and others. Learn more and subscribe to our plans.